Ce post en anglais
traduit par nos soins circule actuellement sur la toile et auprès des forums zappaïens: Ne vous laissez pas abuser c'est un FAKE évidemment.. mais bien imaginé! Cela nous donne tout de même l'occasion de (re)découvrir la
SyntAxe
d'Allan et ça c'est pas rien.
From Bill on alt.fan.frank-zappa ( who likes to post humorous fake Zappa projects ) :
Le Zappa Family Trust (ZFT) et le représentant officiel d'Allan Holdwsorth (OAH) sont extrêmement heureux d'annoncer la sortie prochaine de "Tabular Rasa", une collection de travaux de Frank Zappa au Synclavier avec la participation d'Allan Holdsworth et de Chad Wackerman. Le projet "Tabular Rasa" a été achevé au UMRK en 2011.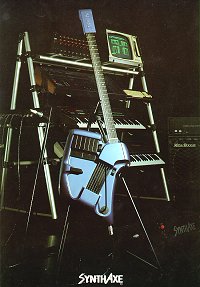 "En 2009, nous sommes tombés sur des bandes enregistrées qui avaient été étiquetés (par FZ) «Allan / Chad" explique Joe Travers 'The Vaultmeister'. A première vue, je pensais que c'était des enregistrements de Zavod [Allan] et Chad [Wackerman] mais imaginez ma surprise d'entendre une sorte de "Jazz From Hell" avec des prises incroyables de solos de guitare d'Allan Holdsworth sur son
SynthAxe
. Je savais déjà que Frank témoignait d'une grande admiration pour Allan et que celui-ci lui avait rendu visite à son domicile mais nous n'avions aucune idée de ce qui avait pu être enregistré.
L'année dernière, nous avons donné Allan l'occasion d'écouter les bandes, et sur une paire de titres il a ré-enregistré ses parties, sinon tous le reste de la musique date de 1986. Nous avons aussi répété avec Allan puisqu'il sera notre "invité spécial" sur certains shows de la tournée ZpalysZ à venir. Nous espérons ainsi jouer "The Girl in Platinum Dress " et également une variation du superbe de "Watermelon In Ester Hay" que Frank a orchestré pour le Synclavier avec Allan dans le rôle principal. C'est surnaturel".
1. Shards of Light (6:43)
2. The Girl in the Platinum Dress (4:37)
3. Tweezer Glint (8:01)
4. Contraption Conniption (7:54)
5. Shadow Box (12:11)
6. Shrimpansy Minky (7:50)
7. Watermelon In Glass Hay (6:32)
Produit par Gail Zappa & Joe Travers
Liner Notes by: Gail Zappa
2012 Zappa Records, ZFT, OAH
On serait presque prêts à (re)croire au Père-Noêl, non?
Cependant cela reste toujours plus fun que les extaits sur Youtube de la
tournée 2012 ZplaysZ featuring Holdsworth
avec cette fameuse gratte... très très décevant pour le peu que nous en avons vu! (cette info pour le coup était véridique). A vous de juger, Allan n'a pas l'air très à l'aise avec la musique de Frank. De plus comme la
Zappa Trust Familly repart
en guerre VS internet en faisant supprimer de manière musclée sur Youtube des interprétations dont elle ne possède aucun droits, notamment en Europe, on ne va pas vous faire de la pub pour le rejeton.
L'épée de Damoclès
plane également au dessus des
sites web
(votre serviteur) ainsi que des
festivals
consacrés au célèbre compositeur moustachu. "There is more stupidity than love of music in Zappa family's universe... and it has a longer shelf life".